Basic Chicken Stock
---
This basic chicken stock yields a smaller quantity of stock and can be used for white sauces or soups.

Preparation Time: 5 min
Cooking time: 3-4 hours
Yields 1 - 1.25 litres (about 2 pints)

Ingredients

500g (½ pound) chicken bones (carcasses, backs, necks, feet or wings)
1 medium sized onion peeled and left whole
1 carrot halved
1 stick celery cut into 2.5cm (1 inch) chunks
about 1.5 litres (3 pints) cold water (enough just to cover the bones)
1 teaspoon salt (optional)
1 teaspoon black pepper corns
1 bay leaf
5 parsley stems
1 sprig of thyme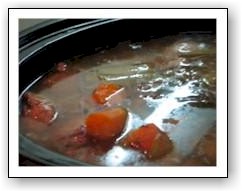 Method

Place all the ingredients in a heavy based saucepan or stock pot and bring to the boil.
Turn down the heat to a gentle simmer.
Skim off any scum that forms on the surface.
Cover saucepan and simmer very gently for 3 - 4 hours.
Strain through a fine sieve.
Refrigerate for 8 hours and remove any fat that settles on the surface.
Store in the fridge for up to 4 days or freeze for up to 3 months.
See more Basic Chicken Stock Recipes here
Return to Chicken Recipes Central Home