Chicken Casserole Recipe with Brinjal and Noodles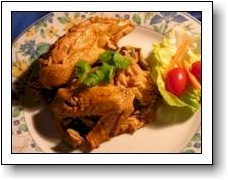 This is one of my personal favourite chicken casserole recipes. Surprisingly cinnamom combines very well with chicken.
The cinnamom, bayleaf, concentrated tomato and wine gives this chicken casserole its unique flavour which is just divine.
Be careful not to over-cook this one, as the texture gets ruined very easily.
Preparation Time: 30 min
Cooking time: 1¼ hours
Standing time (for brinjal) 30 min - 1 hour (optional)
Pre-heat oven to : 180°C (350°F, gas mark 4)
No. of servings: 4 to 6

Ingredients

8 chicken pieces
1 large onion peeled and thinly sliced
2 cloves of garlic crushed
3 medium sized brinjals cubed, about 500g (1 pound)
3 tablespoons tomato paste
1½ cups chicken stock
½ cup dry white wine
1 teaspoon dried origanum
1 bay leaf
2 sticks cinnamon
2 tablespoons olive oil
salt and pepper to taste
250g (8 ounces) orzo or risoni pasta, or short grain brown rice
Garnish
Chopped fresh parsley and grated Parmesan cheese.
Method

Place the cut brinjal in a colander and salt them. Weigh them down with a plate and leave to drain for up to an hour. Rinse all the salt off and pat dry.
Pre-cook the pasta or rice and drain.
Heat the oil in the casserole on top of the stove.
Gently brown the chicken.
Remove the chicken and add the onions.
Sauté the onion until soft.
Add the garlic and brinjal.
Cook for about 10 minutes, stirring often and adding more oil if needed.
Return the chicken to the casserole and add a bit of seasoning.
Add the stock, wine and tomato paste.
Bring to the boil.
Add the origanum, bay leaf and cinnamon.
Cover tightly and pop into the oven for about 30 minutes. (The chicken should be tender and cooked through.)
Stir in the cooked pasta or rice and a bit more seasoning.
Return to the oven to heat everything through.
Check the seasoning, sprinkle with the fresh parsley and pass the parmesan round.
Original Recipe from "South African Cookbook" published by Reader's Digest
Return to Casserole Recipes from Chicken Casserole Recipe with Brinjal and Noodles
Return To Chicken Recipes Central Home