Chicken Livers and Pasta Recipe with Bacon and Fresh Herbs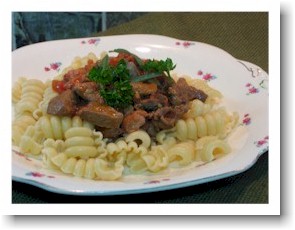 Served with pasta shells like conchiglie, or anither interesting pasta shape like Ricciolini, this chicken livers and pasta recipe makes a quick satisfying supper dish. This a simple chicken recipe that combines bacon and fresh herbs with chicken livers and is moistened with the tomatoes.
Preparation Time: 10 min
Cooking time: 15 min
No. of servings: 4

Ingredients

250g (9 ounces) chicken livers, washed and trimmed
120g (4 ounces) rindless streaky bacon diced
4 small tomatoes peeled and diced
2 cloves of garlic crushed
150ml (¼ pint) dry white wine
2 teaspoons chopped fresh sage
1 tablespoon chopped fresh flat leaf parsley
50g (2 ounces) butter
Salt and pepper to taste
300g (11 ounces) dried pasta shells
Garnish
Some chopped flat leaf parsley
Method

Start cooking the pasta according to the package instructions while continuing with the rest of the recipe.
Heat half the butter in a saucepan over medium heat, add the bacon and fry gently until done but not crisp.
Add the chicken livers, half of the sage, garlic and salt and pepper to taste.
Gently fry for about 5 minutes, stirring often until the chicken livers have changed colour all over.
Add the wine to the pan. Allow the pan juices to be incorporated.
Lower the heat and simmer gently for 5 minutes.
Add the rest of the butter to the pan.
Once the additional butter has melted, add the diced tomatoes, rest of the sage and the parsley.
Stir well and adjust the seasoning.
Drain the pasta and tip into a warmed serving platter.
Add the sauce, garnish with chopped parsley and serve.
Return to Simple Chicken Recipes form Chicken Livers and Pasta Recipe with Bacon and Herbs
Return To Chicken Recipes Central Home