Avgolemono - Greek Chicken Soup Recipe with Lemon
---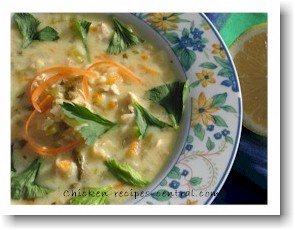 My children have grown up with this chicken soup recipe and I make it very often.
When my husband and I were dating he taught me how to make this chicken soup using his mother's recipe.
The name comes from the Greek words for "egg" and "lemon" and this tangy chicken soup recipe is always a winner.
Preparation Time: 20 min
Cooking Time: 35 min
No. of Servings: 4-6

Ingredients

100g (3 oz) chicken (e.g. skinless boneless chicken breasts) cut into small pieces.
1 onion chopped.
1 medium carrot coarsely grated.
2 sticks of celery with leaves, chopped.
75g (2½ oz) uncooked short grain brown rice.
1.5l (2¼ pints) chicken stock.
3 large eggs.
juice of 1 medium lemon.
1-2 tablespoons olive oil.
½ teaspoon dried mixed herbs.
salt and pepper to taste.
Garnish
Fresh parsley, roughly chopped and some extra lemon juice
Method

Heat the oil in a deep saucepan, add the onions and fry gently until soft.
Add the chicken and fry gently until just done.
Add the carrots, celery, rice, mixed herbs and chicken stock.
Bring to the boil and simmer until the rice is done.
Remove the soup from the heat.
Break the eggs into a large heat-proof jug and beat well.
Add the lemon juice to the beaten eggs and mix well.
Add one cup of the hot soup a little at a time to the lemon and egg mixture, beating well with a wire wisk after each addition.
Now wisk the egg mixture into the soup and return to a low heat.
Stir continuously without boiling for about 5 minutes or until the soup has heated through and has a rich, creamy texture. Do not boil the soup, as it will curdle.
Adjust the seasoning, garnish with the parsley and serve with the extra lemon juice separately for those who prefer it more tangy.
Return from Avglolemono to Chicken Soup Recipes
Return to Chicken Recipes Central Home