Chicken Soup Recipe with Pumpkin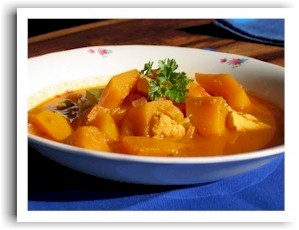 This chicken soup recipe is flavoured with eastern spices and the pumpkin gives it a wonderful golden colour. Spice it up even more by increasing the amount of pepper and chilli you add. I love the smell of this soup as it simmers away and it is substantial and nutritious as well.
Preparation Time: 20 min
Cooking time: 25 min
No. of servings: 4

Ingredients

100g (3 oz) chicken (e.g. skinless boneless chicken breasts) chopped into small pieces
1 onion chopped
150g (5 oz) pumpkin or butternut cut into small cubes
1 large tomato skinned and chopped
1 litre (1 ¾ pint) chicken stock
1-2 tablespoons olive oil.
4 cardamom pods
2.5 cm (1 inch) piece of fresh ginger peeled and pounded
½ teaspoon turmeric
½ teaspoon pepper
&frac12 teaspoon paprika or chilli powder
1 teaspoon salt or to taste
Garnish
Fresh coriander leaves roughly chopped
Method

Heat the oil in a deep saucepan, add the onions and fry gently until soft.
Add the chicken and fry until just done.
Add the rest of the ingredients and simmer for 25 minutes or until the pumpkin is soft.
Garnish with the coriander and serve.
Return to Chicken Soup Recipes

Return to Chicken Recipes Central Home