Simple Roast Chicken Recipe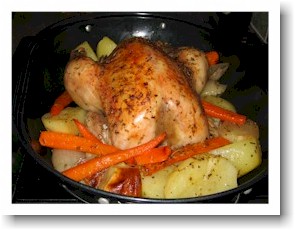 This simple roast chicken recipe has evolved in my family over the years. It is quick to prepare and once it is in the oven, you can pour yourself a glass of wine and relax while the chicken roasts.
What I love most about this whole chicken recipe is that it is a meal-in-one dish and once dinner is over there is very little cleaning up to be done.
Preparation Time: 15 min
Cooking Time: 1 - 1½ hours
No. of Servings: 4-6
Pre-heat oven to 180°C (350°F, gas mark 4)
Ingredients

1 whole chicken weighing about 1.5kg (3 pounds)
1 onion quartered
4-5 large carrots, peeled and halved length ways
4-5 medium potatoes, peeled and quartered
juice of 1 lemon
½ cup chicken stock
1 teaspoon dried rosemary
½ teaspoon dried basil
¼ teaspoon dried marjoram
3 tablespoons olive oil
salt and pepper to taste
Method

Wash the chicken and pat dry. Rub the cavity with salt and pepper.
Place the oil, stock and lemon juice in a roasting tin.
Add the chicken and vegetables and coat with the liquid.
Sprinkle the herbs and a bit more salt and pepper over the chicken and the vegetables.
Cover and put into the oven.
Remove from the oven after ½ hour and baste with the liquid in the roasting tin, and turn the vegetables.
Repeat after 20 minutes.
After an hour, pierce the chicken, the juices should run clear.
Once the chicken is done, increase the oven temperature to 200°C (400°F), and roast the chicken uncovered until it is brown and the vegetables are slightly browned.
Remove the chicken and vegetables from the tin and keep warm.
Make the gravy by adding a bit more stock/water to the tin, stir and scrape the pan juices to incorporate the flavour and thicken with 1 tablespoon corn flour mixed with 2 tablespoons cold water.
Cut up the chicken and serve with the gravy.
Hint: The vegetables can be varied. Try vegetables like parsnips and celeriac or even butternut.
Return to Simple Chicken Recipes from Simple Roast Chicken Recipe
Return to Roast Chicken Recipes
Return to Chicken Recipes Central Home