Simple Spicy Chicken Recipe with Chick Peas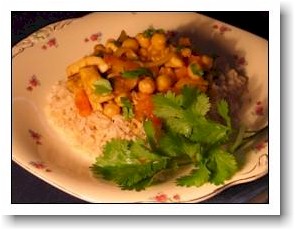 A simple spicy chicken recipe that only takes a few minutes to put together. The ginger, garlic and garam masala add warm flavours and the turmeric and tomatoes gives it a wonderful warm colour as well.
You can spice it up by increasing the amount of chilli. Serve it with brown basmatic rice and a salad for hearty, balanced meal.
Preparation Time: 15 min
Cooking Time: 20 min
No. of Servings 4
Ingredients

4 skinless, boneless chicken breasts cut into thin strips
1 tin of chickpeas
2 medium onions, chopped
2 medium tomatoes peeled and chopped
2 cloves of garlic crushed
2 teaspoons grated fresh ginger
1 small green chilli seeded and chopped
½ teaspoon ground turmeric
1 teaspoon garam masala
2 teaspoons ground coriander
2 bay leaves
2 tablespoons lemon juice
1-2 tablespoons olive oil
salt and pepper to taste
Garnish
1 tablespoon chopped fresh coriander
Method

Heat the oil in a saucepan and gently fry the onions until soft.
Add the garlic and ginger and fry for about 2 minutes.
Add the turmeric, coriander and garam masala and fry for 1 minute.
Add the chicken and a bit more oil, if needed, and fry until just done.
Now add the tomatoes, chilli, bay leaves and chick peas.
Turn down the heat, cover and simmer for 10 minutes until the tomatoes are cooked.
Add the lemon juice, adjust the seasoning, garnish with the coriander and serve.
Return to Simple Chicken Recipes from Simple Spicy Chicken Recipe with Chick Peas
Return to Chicken Recipes Central Home