Stuffed De-Boned Chicken Recipe with Onion, Sage and Bacon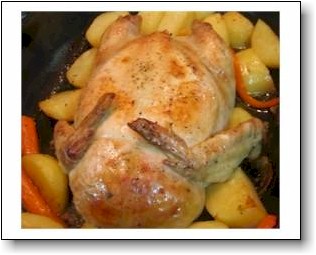 A real yum-factor stuffed de-boned chicken recipe. The combination of sage and onion in stuffing recipes for chicken is well known. Here some smoked bacon is added and the result is simply divine.
The stuffing can also be used in a traditional roast chicken. In that case you might find that there is some stuffing left-over. Roll the extra stuffing into small balls and add to the roast for the last 30 minutes. These are guaranteed not to go to waste!
Preparation Time: 45 min
Cooking time: 1½ - 1¾ hours
Preheat the oven to: 180°C (350 °F, Gas Mark 4)
No. of servings: 6

Ingredients

For the actual chicken
1 chicken 1.5 - 2 kg (3 - 4 pounds) de-boned
2 - 3 tablespoon olive oil
1 - 2 tablespoon lemon juice
salt and freshly ground black pepper to taste
For the stuffing
1 tablespoon olive oil
2 large onions peeled and finely chopped
250g (8 ounces) smoked bacon, finely chopped
100 - 125g (3 - 4 ounces) fresh white bread crumbs
8 fresh sage leaves or 1 teaspoon dried sage
1 large egg beaten
salt and freshly ground black pepper to taste
Method

To make the stuffing

Heat the olive oil in a large saucepan over medium heat.
Gently fry the onions until soft.
Remove the onions and reserve.
Add the bacon to the saucepan and fry until slightly crisp.
If using fresh sage, blanch the sage leaves in boiling water for 1 minute, then drain and chop finely.
Mix all the stuffing ingredients together in a mixing bowl.
Season with salt and pepper.
To put the dish together
Lay the de-boned chicken, skin side down on a chopping board.
Arrange the stuffing down the middle of the de-boned chicken.
Use a trussing needle to sew the chicken up and tie the end to make a neat parcel.
Mix the olive oil and lemon.
Rub the chicken with salt and pepper.
Put the lemon and oil in a roasting tin that can be covered.
Add the chicken and baste with the oil and lemon.
Cover and bake in the pre-heated oven for 1½ hours, basting it occasionally with the pan juices.
Check if the roast chicken is done and return to the oven, uncovered, for 15 minutes or until nicely browned.
Let the chicken rest for 15 minutes before carving.
Return to Roast Chicken Recipes from Stuffed De-Boned Chicken Recipe
Return To Chicken Recipes Central Home from Stuffed De-Boned Chicken Recipe