Tandoori Chicken Recipe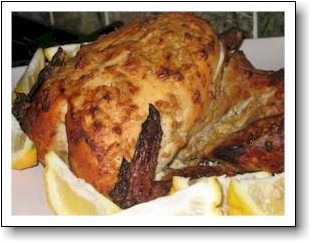 This Tandoori Chicken Recipe is really yummy. The first time I made this recipe I made a double batch, hoping to make Butter Chicken with the second chicken, but my family had other ideas.
The good news is that you do not need a Tandoori oven to replicate this delectable dish at home. Once the chicken has been marinated it is simply a case of roasting it.
Preparation Time: 30 min
Marinating Time: 4-6 hours
Roasting time: 1 - 1¼ hours
No. of servings: 4
Preheat Oven to 220°C (425°F, Gas Mark 7)
Ingredients

1 whole chicken 1.5 - 2 kg (3½ - 4 pounds)


Tandoori Masala Ingredients

2 tablespoons crushed garlic (more or less half of a medium sized head of garlic, more than what one would think)
2 tablespoons crushed fresh root ginger
220g (7 flour ounces) plain yoghurt
2 teaspoons chilli powder
2 teaspoons garam masala
½ teaspoon ground fenugreek seeds
salt and pepper to taste
Garnish
Lemon wedges for each person to squeeze over their chicken portions.
Method

Stir all the Tandoori Masala ingredients together in a large bowl.
Skin the chicken and prick it all over with a fork.
Put the chicken in the Tandoori Marinade and rub it all over the chicken with your hands.
Cover the bowl and place it in the fridge to marinate for 4-6 hours, turning the chicken a few times to ensure that the flavour is spread evenly.
Pre-heat the oven.
Place chicken on an oiled wire rack over a roasting tin.
Roast for 1 - 1¼ hours turning the chicken half way through.
Test for doneness.
Serve with the fresh lemon wedges.
---
Based on an original recipe from Niru Gupta's "Everyday Indian"
---
In the unlikely event of any of the Tandoori chicken being leftover try this Easy Butter Chicken Recipe
Return To Roast Chicken Recipes from Tandoori Chicken Recipe
Return to Chicken Recipes Central Home